Here you can request to change your points to Paypal cash. You need to have the minimum amount required to do so and have a valid paypal account email address.


You need to login to be allowed to change FansFrenzy Points for Paypal cash.
Another Day, Another NFL Player Investigation
Kansas City Chiefs receiver Tyreek Hill is under investigation for an alleged battery.
The team confirmed that they were aware of the investigation.
"We're in the process of gathering information and have been in contact with the league and local authorities," the Chiefs said in a statement. "We'll have no further comment at this time."
A report from the Overland Park Police Department lists a juvenile as the victim. Hill's fiancée, Crystal Espinal, has reportedly been in contact with the police due to the juvenile being the couple's 3-year old son, and the child suffered a broken arm.
That report was dated this March 14, 2019 but it is unclear when the alleged incident took place.
As of Friday afternoon, the three-time Pro Bowler had not been charged but that does not mean he is in the clear. Police have turned over the case to prosecutors for review.
The Kansas Department of Children and Families are also reportedly investigating.
This isn't the first time Hill has had a run in with the law. In 2015, Hill pleaded guilty to domestic assault and battery after punching and choking Espinal who was pregnant at the time. He would receive three years of probation and was dismissed from the Oklahoma State football team.
His 2015 conviction was later dismissed in August 2018 and expunged from his record after finishing probation.
Hill would transfer to West Alabama and was chosen by the Chiefs in the fifth round of the 2016 draft. The selection was widely criticized given his history. Team management said that at the time they vetted Hill and were comfortable with their decision, and they put safeguards in that included counselling and other checks they hoped would keep Hill on the correct path.
It all appeared to be going good for Hill who looked to be cleaning up his image and making a change for the better. Hill won over the skeptical Chiefs fans base with his football abilities and how he interacted with them, often signing autographs for hours during training camp.
The 25-year old was the leading wide receiver for the Chiefs in 2018. This offseason he has been in talks to receive a lucrative contract extension as he enters the 2019 season on the final year of his rookie contract. With the Chiefs making moves to create cap space they were looking to sign Hill long term.
Twitter

FansFrenzy
8 Hours ago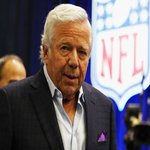 12 Hours ago
Report: Robert Kraft's lawyers are filing a motion to stop evidence being released
12 Hours ago
Report: White Sox, Eloy Jimenez finalizing long-term deal
12 Hours ago
Adrien Broner threatened to shoot gay people in a homophobic rant posted to his Instagram story Tuesday night in what he called a "PSA"
FansFrenzy Video Highlights
Do you remember Mason from a few weeks ago?
There are so many things that pisses off Columbus Blue Jackets' head coach John Tortorella, but what annoys him the most is cell phones that ring during press
...
Who doesn't love Timbits mini games between periods of junior and pro hockey games?