Here you can request to change your points to Paypal cash. You need to have the minimum amount required to do so and have a valid paypal account email address.


You need to login to be allowed to change FansFrenzy Points for Paypal cash.
Humphries Denied Release
Three-time Olympic medallist Kaillie Humphries won't be joining Team USA's bobsleigh team after a judge handed down his ruling on Tuesday.
The Calgary judge denied Humphries' release from Bobsleigh Canada and she found that the governing body has the discretion to decide whether to allow an athlete to compete for another country.
"She's obviously very disappointed," said Humphries' lawyer Jeffrey Rath after the decision was handed down.
In the ruling by Court of Queen's Bench Justice Charlene Anderson, Humphries could have initiated a dispute resolution process earlier through Bobsleigh Canada but "instead chose to wait and bring this application on the eve of US push trials."
However, Humphries, who has been training and living in San Diego, California, will still be attending the US push trials as a guest this week.
The 34-year old is not done with Bobsleigh Canada as she and her lawyer will continue to fight and called the organization's conduct "unreasonable and unsportsmanlike."
This past weekend Humphries married American bobsledder Travis Armbruster which would allow her to represent the United States if she can get her release from the Canadian organization. While she is required to get the release by September 30th to able to compete for the Americans this season, she could still file an appeal.
Following the judge's ruling, a spokesperson from Bobsleigh Canada said that Humphries was still welcome to compete for Canada.
"Our mandate is to develop world Olympic champions, that's what we do, Kaillie is obviously a world Olympic champion," said Bobsleigh Canada high performance director Chris Le Bihan.
"We want Kaillie in our program. Kaillie is obviously going to be a threat in the next Olympics and there's nothing we want to see more than Canadians standing on the podium."
Humphries currently is suing Bobsleigh Canada for $45 million for blocking her release from th team and breaching its contract in relation to athlete and coach code of conduct. This comes after she alleges that the organization's head coach Todd Hays verbally and mentally abused her during the 2017-18 season.
She filed the complaint with Bobsleigh Canada saying that she did not feel safe training and competing with hays as her coach and could no longer compete or be a part of the team. This led to her taking last season off from competing as she waited for the sports organization to conduct an internal investigation.
The investigation, which ended a few days prior to the ruling, found no evidence of harassment.
Humphries captured back-to-back Olympic gold medals in women's bobsleigh in 2010 and 2014 along with brakewoman Heather Moyse. After Moyse retired, Humphries added a bronze medal in 2018 with her new teammate Phylicia George.
Her accomplishments didn't end there as she also winning world championships in 2012 and 2013, as well as World Cup season titles in 2013, 2014 and 2016. She would also be named the Lou Marsh Trophy Canadian athlete of the year in 2014.
The only way we could see Humphries compete for Canada internationally once again is if there is a complete cleaning of the country's sport governing body's management.
On This Date
September 22, 1927 - Gene Tunney beats Jack Dempsey for the 2nd time in 10 for heavyweight boxing title; dubbed the "Long count" fight
LEADERBOARD
Luckyjp99

218519.00 Points
Twitter

FansFrenzy
5 Hours ago
Today's Fans Frenzy Code is: Byfuglien Suspended
5 Hours ago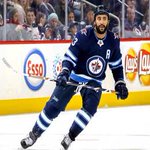 5 Hours ago
Man City falls just short of record with 8-0 win.
5 Hours ago
UCLA upset Washington State after being down 49-17 in the 3rd quarter.
5 Hours ago
TFC clinch playoff spot for 4th time in 5 years.
5 Hours ago
Jerry Colangelo says "2-3 players" from the FIBA squad have already punched their tickets for the Tokyo Olympics
FansFrenzy Video Highlights
Three months ago, David Ortiz was shot while out with a friend in the Dominican Republic, but Monday he came home.
It's one thing to get a chance to make your Major League debut, but it is another thing to make history while doing it.
An apparent brawl at this past weekend's Los Angeles Rams preseason game has made its way to social media.